Fitness Classes
Unlimited Forge-Rx Classes
COMMUNITY • ACCOUNTABILITY • RESULTS
GROUP FITNESS CLASSES
At Forge Rx, we have created our own 'results driven' style of group fitness classes to ensure the success of every individual who participates. Our fitness instructors are all trained and conditioned to provide you with the best workout to reach your wellness goals. Whether you are a beginner to the gym and working out, or you are an advanced athlete, we will challenge you in our exciting group fitness classes, all while having fun and forming relationships.
FORGE RX FITNESS TRAINERS
At Forge Rx all of our group fitness classes and personal training is conducted by certified personal trainers and fitness instructors who are passionate about helping their clients to reach their health and wellness goals. Our trainers and instructors work hard to help every participant succeed and are able to tailor workouts and fitness classes to meet the needs of each attendee. If you have any specific limitations or goals, our health and wellness coaches will work with you to find a plan that fits best for you.
---
Class Descriptions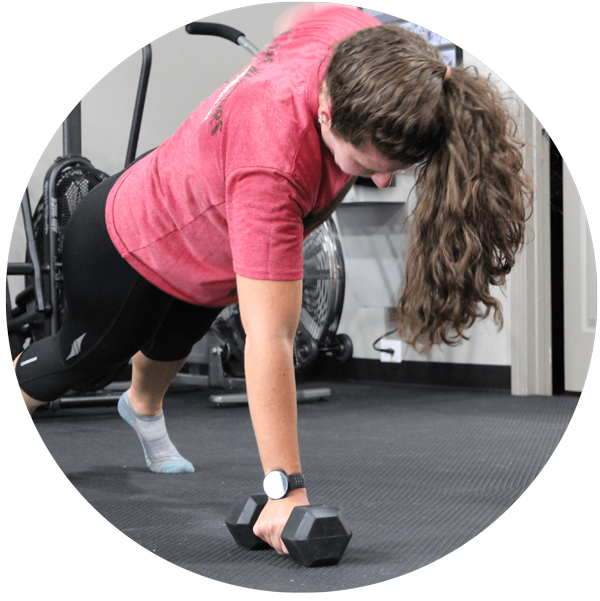 Flex-Rx
Strength Training
Traditional style bodybuilding workout just got a functional makeover with a little Forge-Rx flare! Anyone looking to increase muscle mass, lose fat or strengthen their full body – this workout class is for you, come and get your flex on!
Sweat-Rx
Cardio Training
This workout of the day is a high-intensity cardiovascular fitness class that works your full body and your lungs too! This type of metabolic conditioning will include a variety of movements and leave you coming back for more!
Daily-Rx
Full-body Daily Workout
This is a full body workout class that incorporates strength, functional bodybuilding & metabolic conditioning. What makes this group fitness class awesome is the friendly competition of being able to see what others in classes before & after you have accomplished! This is a great way to make new friends and reach new heights on your fitness journey!
Movement and Mobility
Movement and Mobility fitness class improves movements and reduces injuries. This workout class incorporates a lot of yoga movements and is sure to leave you feeling better, both physically and mentally.
Yoga
These sessions introduce the fundamental principles of yoga poses and breath work in a flow of poses linked together by the breath. This class is suitable for any beginner, and any level of flexibility. It well help increase mobility, and aid in stress relief and relaxation.
Cycle-Rx
Optimum fat burning and strength building! Simulates varied terrain – rolling hills and sprints. HIIT training based.
Kettlebell-Rx
Fitness' most efficient tool, using kettlebells are a great change of pace to your typical workout! Combining high intensity and functional movements we know you will have a fun time.
Ladies-Rx
This class is for the women! If you are a lady wanting to get strong and define your shoulders, legs, butt, and core this class is for you.
---
YOU WILL ALSO RECEIVE:
Access to the Secret Forge-Rx Facebook Nutrition Page
Childcare is included at no additional charge!
Everything in our Basic Gym Memerbship is included!