Welcome to Forge Kids!
We are proud of our facility and our childcare playroom. It is our mission to provide quality childcare in a safe, sanitary, and welcoming environment while you enjoy the full benefits of our workout facility. Our relaxed and fun atmosphere in Forge Kids will keep your child safe and entertained so that you can focus your time without the worry.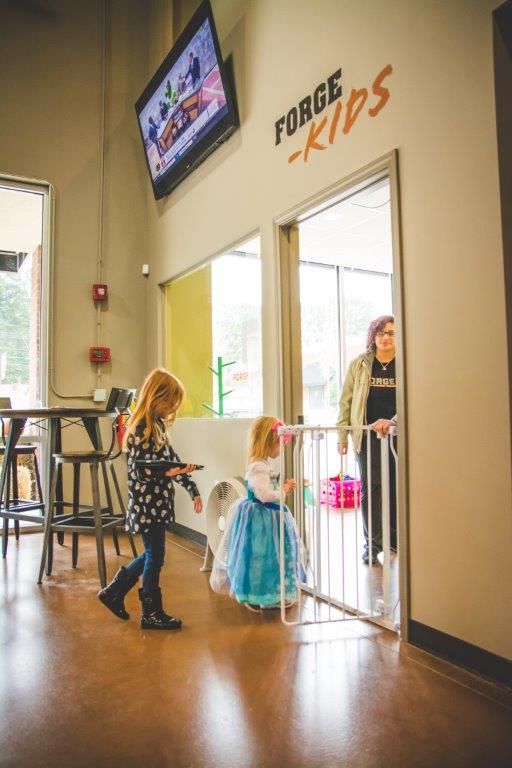 HOURS OF OPERATION
Monday – Thursday: 9am-1pm & 4pm-8pm
Friday -Saturday: 9am-1pm
Sunday: Closed
We want your child to have an enjoyable and safe experience. Please follow our basic guidelines:
Children ages 6 weeks to 13 years are welcome in our childcare.
Members must complete an information/waiver card on EACH child for our records.
Members can only bring the children they have registered in our system.
There is a two hour maximum. Please plan your workouts accordingly.
The playroom is available during the posted hours of operation. You are required to sign your child in and out each time you visit.
If someone other than the person dropping the child off will be picking up the child, the caregiver must be notified. I.D. is required.
You must remain in the gym while your child is in our childcare.
Forge Kids employees are not allowed to change diapers or feed children. If needed they will notify you.
Snacks and drinks are not allowed in the Forge Kids room. There is a snack bar just outside the room if they need to use it prior to coming in.
We provide a variety of safe and age appropriate toys. Please refrain from bringing toys from home. We will not be held responsible for lost or stolen toys.
We will keep lost and found items a total of 30 days. If not claimed in 30 days they will be given to Goodwill. These rules are not limited to the above stated and are subject to change as we deem necessary.
"Very friendly staff, great atmosphere and state of the art equipment! Our kids also love the childcare area and the ladies in there. Hands down, the best gym around. We don't mind driving 17 miles to workout!"
-Zuhera
Forge-Rx Member – 5★
"This gym is amazing! It's affordable, all the equipment is new and the best of the best. Everyone is so friendly and helpful!! All of the trainers are amazing! They keep you motivated and make u want to keep pushing to do more. And I couldn't ask for better childcare! My girls ask everyday if we are going to the gym and if Jessie is going to be there!!"
– Deanna
Forge-Rx Member -5★
"I found my sweet girl fast asleep after my workout at CrossFit Winder. Thank you Forge Kids for taking care of her so I can take care of me!"
– Amber
Forge-Rx & CrossFit Winder Member -5★
* Childcare is included in select Membership Options
429 Loganville Hwy, Ste 110
Winder, Georgia 30680-5630
935 GA-124 Suite 213,
Braselton, GA 30517